October 7, 2005

I've seen and slogged through my first mile of serious Scottish rain and it makes me in awe of ancestors on the run with nothing but their kilts to sleep in while evading British invaders. Ms. Moesy and I were soaking wet by the time we made our way to the Youth Hostel in Glencoe, which is a mile or so off the beaten path. Lucky for us, this was a pleasant autumn rain, albeit between about 8:45 and 9:30pm with only the glow of a rainy sky to light the way. Actually, I had my headlamp with me, but didn't want to stop and fish it out. I also got a lesson in what the little cover in the pocket beneath my pack is for. I'll definitely pack my rain pants next time even if it means leaving a wrench or two of Johnny's.


We had planned to catch an early afternoon bus which would probably have gotten us here dry, but misread the schedule and missed it. It was quite alright, though, because we had a wonderful afternoon seeing Glasgow while waiting for the bus.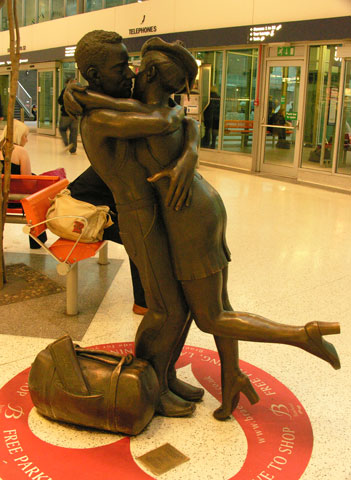 For one thing I thought they'd gone jist about as far as they could go in Kansas City, but then I saw a building where they'd stacked a bunch of movie theaters one atop the t'other. It reminded me of the turtles that hold up the world. Turtles all the way down. Ma'am.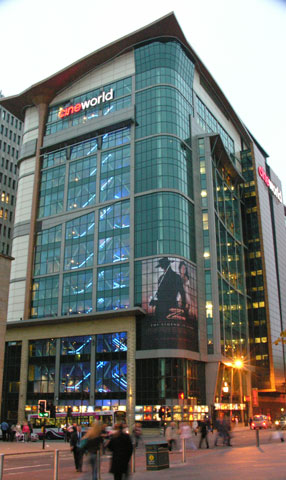 We saw a feller a-blowin' into a funny baggy sorta thing and the darndest caterwaulin' coming out the other end. They say it's a common practice in these parts . . . and, frankly, I love it.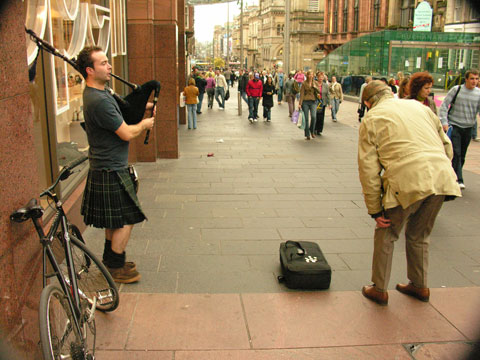 Then we popped into Waxy O'Connor's place for a cup of excellent fish chowder. Oh, that Waxy! He was a transplanted candlemaker from Ireland, hence the name. He was also an expert in alcoholic beverages and loved to eat, which was supposed to be typical of the men of his craft. He claimed that candle makers worked in such heat that it sapped their energy and bodily fluids, so they had to be constantly replenishing them. Wat's water?

Waxy's is a wonderful labyrinth of stairs and corriders and various eating and drinking venues with roofs often held up by gnarly branches of trees of long ago.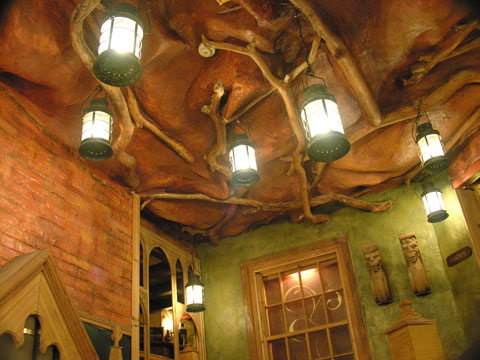 And I love the medieval torches that burn at the doorways, front and back.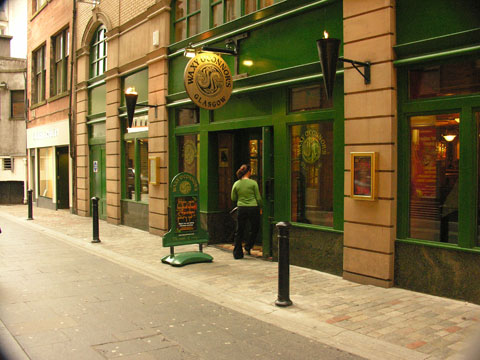 Jeddy Prietto will be happy to learn that McDonalds is not the only California export to find a comfortable niche in Glasgow. O'Neill's got a surf shop right in the heart of town.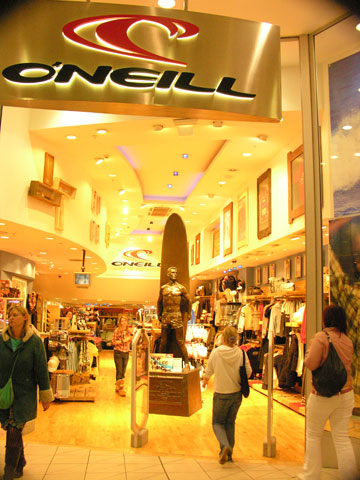 Having paid our respects to the god of surfing, we took a hike down to the "old part of town" where Glasgow Cathedral lords it over things.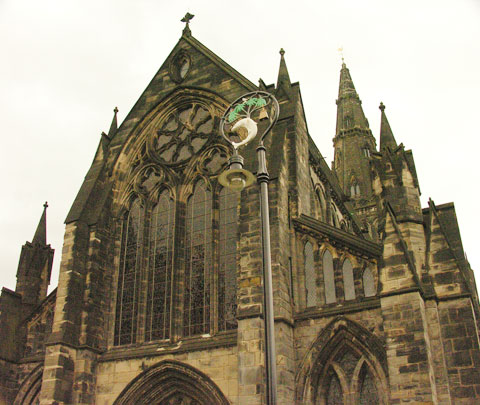 In the background is The Necropolis, but before we could get over to that vast city of the dead, it was closed for the evening and we had to get back to catch our bus.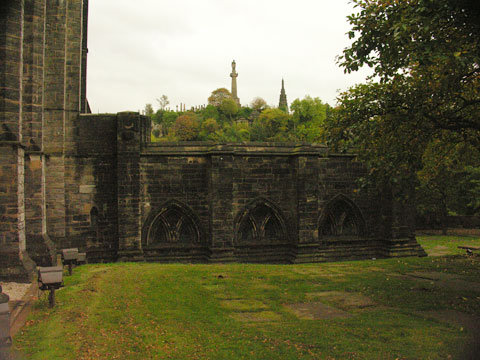 However, long before we came to this pass, it was time to visit St. Mungo's. Remember St. Mungo's Hospital for Magical Maladies, where so many of Harry Potter's friends have spent time? Well, come to find out, not only is there a St. Mungo, but he happens to be the patron saint of Glasgow! Here he is.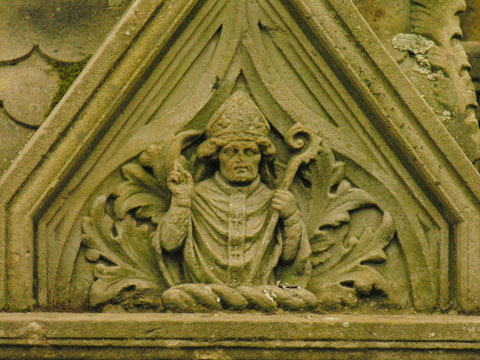 And here's his place. It's no longer a cathedral in it's own right. It's on the grounds of Glasgow Cathedral and it's a museum of religious life and art. It's a fabulous place, and I mean that in the best sense possible.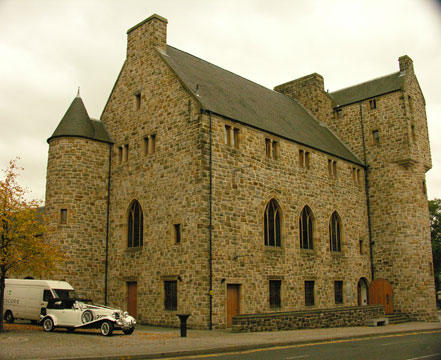 Perhaps it's most famous resident is Dali's painting of the Crucifixion of Christ. It's a powerful picture, even in books and much more "in the flesh," but I wonder what special factors would inspire someone to have their wedding picture taken in front of it. Fascinating!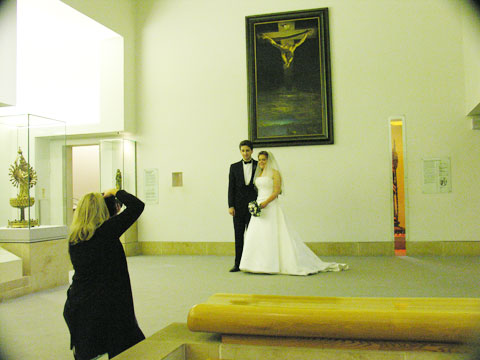 The Dali was desecrated by vandals not long ago, as was this sculpture of Shiva as Michael Flatly (Lord of the Dance). Even harder than imagining someone wanting their wedding picture in front of the Crucifixion, is what sort of a twist would it take to desecrate this sacramental piece of art?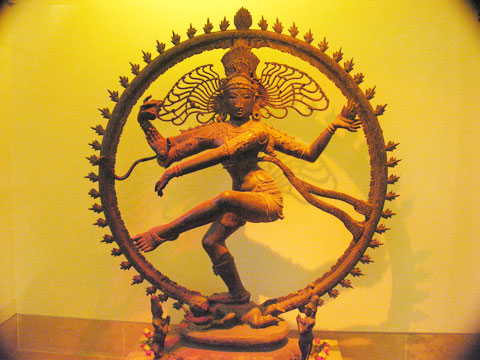 I could have spent many hours hangin' with St. Mungo and friends, but we were lucky to have one hour before closing time. Then it was time for a "Coppochino". That's right, I said "Coppochino". Talk about tiny shops! This is the ultimate tiny shop. I didn't realize he was about to shut down for the day, so we drank first and asked questions later. I didn't get a shot of the "Coppochino" sign before he took it down for the day. Each evening, he is required by the City to leave the place just as it was when the local Constables On Patrol used it.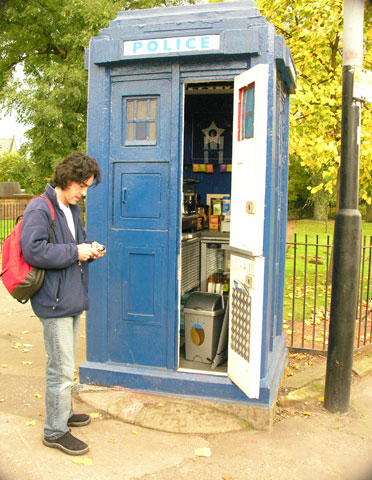 Until recently, these little telephone booth-sized police stations could be found all over Glasgow. This guy has bought the last four before they could be destroyed and is in the process of making "Coppochino" shops out of them. Two are functioning now, number three is being prepared for its grand opening and the fourth has to wait for a rearrangement of the street that it lives on. It's on an island in the middle and must wait for a rearrangement of the street, before it becomes a suitable location for a high volume business without clogging traffic.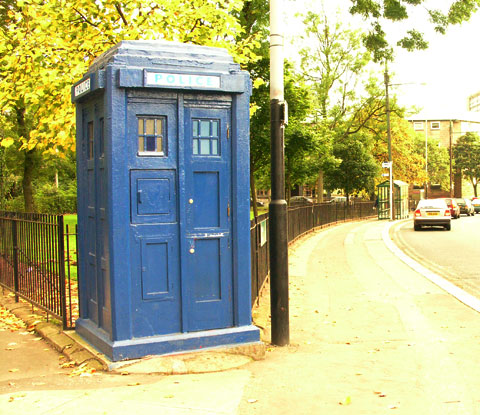 And, so, we bade goodnight to our tiny shopkeeper and hotfooted it through the fall colors for the bus and a rendezvous with the soaking rain of Glencoe.